It's happened twice.  The first one I thought was a fluke.  The bride called me into her dressing room to tell me her zipper had come unzipped.  Upon closer inspection, I noticed that her zipper had come out completely.  The dress fit well, but was not too tight – but I thought perhaps she had strained it somehow by trying it on several times or something that would've caused wear.
With only moments to spare before the opening chord of "Here Comes the Bride", I quickly produced some white thread and a long needle to sew her back into her dress.  Thankfully she didn't have any reason to need her zipper for the remainder of the evening .  I had to give her groom instruction on how to get her out of it.  (His choices were scissors or rip the threads – I never asked which method prevailed; although I have a sneaking suspicion…)
The second time it happened was a very thin bride who was losing the shoulder stitching on a tank dress (not typically a high-stress area of clothing construction).  We discovered it as she was getting ready to walk down the aisle.  I suggested that she not breathe until she came back down the aisle and we would take care of it then.  Apparently she breathed, because when she got back to me – they were barely holding on.
Once again, I came armed with my white thread and needle and took to stitching her back into her dress.  There are several wedding pictures with me in them sewing her back in.
My first theory was that the manufacturer used a special thread that dissolved when heated up to body temperature, but that didn't make much sense.  So, the only thing I can come up with is you just may get what you pay for.  As great as the $99 rack looks when planning a wedding on a budget – keep looking.  It may cause more grief that it's worth.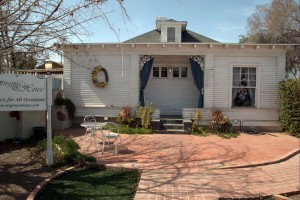 It's true!  Old houses DO sit in old neighborhoods.  And sometimes those old neighborhoods look much worse than they are…
Virginia's House, the historic CH Tinker home is no exception.  It was the original home built in this neighborhood in 1913 – in fact, it's legal description is "orchard lot 1".  Many homes were built in the decades to follow using materials not typically used any more – mostly wood siding (the Arizona sun is too hard on it).  Add 99 years, multiple economic swings, newer neighborhoods being built further out and these little, tiny, wood sided homes become obsolete.  They also become "ugly" to those who are used to looking at large, rambling, stucco, new-builds.  And after 60, 70 or even 80 years of being "not good enough", they start to look pretty bad.
I have had several potential customers do what we refer to as "drive-bys"… meaning they find us online, fall in love with our photos and great reviews, set-up an appointment, drive into the area, then change their mind and leave me waiting without coming in.  To these folks, I apologize.  To others that haven't made that drive yet, I ask you to come inside.
The CH Tinker home was built with all of the opulence of 1913 – complete with a music parlor, butler's pantry, built-in china cabinet and electric lights – all of which are still intact.  The home itself is just under 3,000 square feet – a good-sized home for current standards; a mansion at 1913 standards.  My husband and I have spent the last 15 years lovingly restoring this home – not renovating – restoring.  Restoration is a laborious task that requires more attention than gutting and replacing, not to mention more time and money.  We have done our level best to return this beautiful home to it's original splendor.
As of this writing, I have been in business for almost 14 years.  It's a business I started from nothing, but an old house and a dream and grew it into many happy occasions and lifelong friendships with my brides, their families and friends.  Many people may not know this, but it is also my home – we have lived here since 1997 and I have raised my two children here.  As hard as I try not to take it personally – sometimes I still do.  I have labored over, celebrated and cried into every corner and crevice of this home.  I have befriended my elderly neighbors and buried most of them.  I was their breath of fresh air when we purchased the property and gave them hope for new things to come. Virginia's House has been good to me.  And them.  And I want it to be good to you.
So I ask you this… we have been told all through our lives not to judge a book by its cover.  I would ask that you not judge THIS book by the other books on the shelf.  There's a great story written here and I'd like to add your chapter.